Jos Buivenga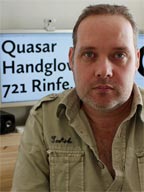 Information about the typeface designer Jos Buivenga and his fonts.
Jos Buivenga can be passionate about a lot of things. He loves to paint, listen to music, brew an almost perfect espresso... but nothing challenges and rewards him more than designing type. If ever he was stranded on a desert island he would still draw alphabets in the sand, even if there was no one else to see them.
He is the founder of Exljbris, the one-man Dutch font foundry through which he releases and offers his typefaces. For 15 years, his online friends and fans could follow the development of his typefaces and download the results at no cost. In 2008, while still working as an art director at an advertising agency, he released his first commercial typeface Museo with several weights offered for free. That strategy paid off and Museo became a huge bestseller. Partly thanks to that success he now calls himself a full time type designer. Recent projects include a custom version of Museo & Museo Sans for Dell and the Questa project, a collaboration with the well-known type designer Martin Majoor.
[Jos Buivenga, June 2011]
Facebook: http://www.facebook.com/exljbris
Fonts designed by Jos Buivenga: