Friedrich Althausen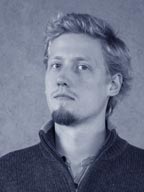 The Grafikfritze Friedrich Althausen was born in 1981 in East-Berlin, Germany. Since 2003 he has been studying Visual Communication at the Bauhaus-University of Weimar. His focal areas are type design, typography and illustration.
In 2006 he learned under Luc(as) de Groot, the designer of Thesis, at the University of Applied Sciences of Potsdam.
He is an active member of the vital typographic scene of Weimar.
[Friedrich Althausen, March 2007]
Fonts designed by Friedrich Althausen