Luc(as) de Groot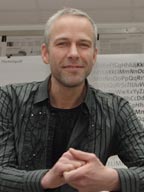 Information about the typeface designer Luc(as) de Groot and his fonts.
Luc(as) de Groot was born in Noordwijkerhout in The Netherlands. Between 1982 and 1987 he studied at the Royal Academy of Fine Arts in The Hague under Gerrit Noordzij. Between 1989 and 1993 he worked on corporate identity projects at the Dutch design group BRS Premsela Vonk.
In 1993 he joined MetaDesign in Berlin where he worked with Erik Spiekermann on the development of the FF Meta family. He is now typographic director at MetaDesign, working on corporate design projects including logo design, magazine concepts, and custom typefaces. He also regularly lectures on type design.
[DJD]
Fonts designed by Luc(as) de Groot: