Oliver Linke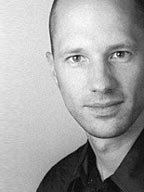 Information about the typeface designer Oliver Linke and his fonts.
Oliver Linke studied graphic design at the University of Applied Sciences Augsburg, Germany and the University of Missouri, Kansas City (1993–98). After cofounding a design agency (1998) he continued his studies in art history, art education and philosophy (2000-05) at the University of Augsburg. Today his work focuses on book- and type design. He teaches at the Munich Designschool and the University of Applied Sciences Augsburg and gives lectures and seminars.
In 2006 he published his sans-serif typeface Finn under the label Lazydogs that he cofounded in 2005 with fellow type designers Robert Strauch and Kai Büschl.
[Oliver Linke, January 2007]
Fonts designed by Oliver Linke: