John Bomparte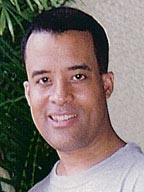 John Bomparte was born on the Caribbean island of Trinidad in 1959.
It wasn't long after emigrating to the States as a teen that John was struck, as if by a bolt of lightning, with a passion for type and typography; and always found himself fixated, fascinated with the beauty to be found within letterform shapes. This was a revelation that opened his eyes to the infinite possibilities of design within type.
Those were the mid-70s glory days of Herb Lubalin, ITC, Photo-Lettering, and Letraset. Along with this revelation came the discovery that John had the ability to recognize and identify fonts: an ability that would later prove vital while working at Photo-Lettering, Inc.
During the early years of the 1980s, John was hired by type design legend Edward Benguiat at the equally legendary Photo-Lettering, Inc. (affectionately known as PLINC), where for close to ten years he was assistant to and a protégé of Ed.
Working at Photo-Lettering also presented him the opportunity to be surrounded by other type design luminaries such as Tony Stan, Victor Caruso, Vincent Pacella and Robert Alonso (BA Graphics) of whom John is a friend.
During the years that followed the cessation of Photo-Lettering, he pursued a career in Graphic Design and Print Production until 2006 when John returned to his typographic calling by setting up his own digital type foundry, Bomparte's Fonts.
Bomparte is a graduate of New York's Fashion Institute of Technology and Pratt Institute where he studied graphic design.
John now lives in Wake Forest, North Carolina with his wife and two daughters and is continually expanding the library of Bomparte's Fonts. Among his most well known typeface designs are Hamptons BF and GrungeBob BF.
[John Bomparte, June 2007]
Fonts designed by John Bomparte