Jeff Levine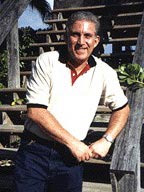 Jeff Levine was born in New York, but has spent most of his life in South Florida. Influenced at an early age by lettering stencils a fellow student brought to school, he has had a life-long love of typography.
Jeff's original experiments with digital fonts were mostly of the dingbat (picture) variety and were made available as freeware. Although these fonts were made using lesser-grade software, they filled enough of a niche to bring Jeff "thank you" letters from all parts of the globe.
After acquiring more professional software, the encouragement of Ray Larabie and Michael Hagemann led Jeff to delve into creating commercial-grade typefonts. He specializes in decorative and display-oriented typefaces.
Joining MyFonts.com in January of 2006, Jeff reached back to his roots and released a series of fonts modeled after some of the old stencils he used and collected. Among these designs are Packed JNL, Shipped JNL, Signed JNL, Sealed JNL, and Delivered JNL.
Other designs find their inspiration from wood type, the Art Deco period, and old fashioned lettering pens. Jeff Levine's most popular font to date was actually created with the help of a friend prior to Jeff digitizing his own work. While working in the recording industry for Steve Alaimo, former singer and co-host of the 1960's TV show "Where the Action Is", Jeff noticed an interesting typeface spelling out the show's title on a photo album Steve kept from those years.
Tracing the letters which existed on that page, and creating his own characters for those that were missing, the font was digitized by Brad Nelson of Brain Eaters Fonts and released as freeware under the name Action Is. The font became a favorite, and was nicknamed "the Austin Powers font" after the movie and because of it's quirky 60's-70's appeal. One archive site boasted over 5000 downloads, at it has been used on Mad TV, The Drew Carey Show, in commercials and even on the site of a Disney resort in Orlando, Florida. With Brad Nelson's blessings, Jeff later reworked the font to include a lower case and extended characters, and it has been selling at MyFonts as Groovy Happening JNL.
[Jeff Levine]
Web: http://www.geocities.com/jeffsfonts