Stefan Claudius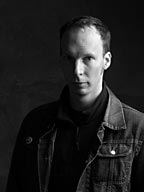 Stefan Claudius was born in Essen, Germany, and studied Industrial Design at the Universities of Wuppertal and Essen.
In 2000 he started a small graphic design studio. After spending some time in the Chank Army, he moved to Cape Arcona, a small fictous country in the Atlantic. Together with fellow designer Thomas Schostok he bought this little country and transformed it into a little typefoundry Cape-Arcona in 2002.
Besides holding typo-workshops and designing new fonts he plays guitar in his instrumental band "volvo penta".
[Stefan Claudius, April 2005]
Fonts designed by Stefan Claudius