Andreas Seidel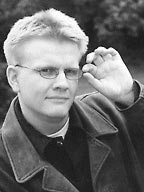 Andreas Seidel was born in 1975 in Bad Saarow, a small town near Berlin, Germany. Between 1994 and 1998 he studied economics.
Since 2000 he has been a freelance graphic designer and illustrator. In 2003 he launched the Astype foundry to release his typefaces.
In 2006 he launched the German Type Foundry with Ingo Preuss.
[Andreas Seidel, August 2010]
Facebook: http://www.facebook.com/germantype
Fonts designed by Andreas Seidel