Anuthin Wongsunkakon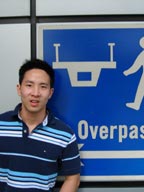 Anuthin Wongsunkakon is a graphic designer and type designer He became a type expert under the guardianship of type design legendary Samuel Čarnoký. He is also a core partner of Behaviour Group, a design firm based in Bangkok, Thailand.
His fonts have been used in local and international magazines, book covers, consumer products, record covers as well as identity for worldwide company.
Writing is his fun sidekick. He was a contributor for Freeze, Image, art4d, DNA, and Wallpaper Thai Edition. His typographic work has been recognized by Type Director Club New York. He also teaches graphic design at Bangkok University.
[Anuthin Wongsunkakon, March 2006]