Luis Alonso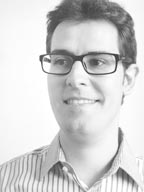 Luis was born in Barcelona, Spain in 1984. He studied Graphic Design at ESDI (Universitat Ramon Llull) and earned his Master's in Advanced Typography at Escola Eina (Universitat Autònoma de Barcelona).
Since 2006 he has worked for Spanish and international studios and publishing houses both as a part of creative teams and as an independent Art Director and Designer mainly focused on visual identity and editorial design projects.
In 2011 Luis moved to the United States when he currently lives and works on diverse web based and app design projects while he runs the independent type foundry Tiponautas along with his colleague Ricardo Santos.
[Luis Alonso, June 2014]
Web: http://www.tiponautas.com/
Fonts designed by Luis Alonso