Enric Jardí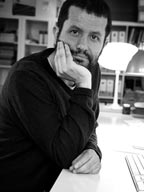 Enric Jardí (1964) is a Barcelona based graphic designer. He studied graphic design at the Elisava Design School and has taught there since 1988. Since 1983 he has worked in different studios, and in 1992 founded the Propaganda studio. Then in 1998 he started up on his own.
In 1991 with Laura Meseguer, José Manuel Urós, and Joan Barjau, he founded the typographic group Type-Ø-Tones, which develops fonts distributed by FontShop. Apart from typography, his professional work is focused on magazine design, book covers and corporate design. He has worked for several Spanish and international institutions and companies.
Enric Jardí is the director of the Master's on Advanced Typography at the Eina University School of Design and Art, in collaboration with the Autonomous University of Barcelona. He also teaches on two other Master's courses in Barcelona, for Art Direction and Advertising at the Ramon Llull University, and the Design, Communication Strategies and Advertising course at Elisava at the Pompeu Fabra University. In recent years he has given courses and workshops, internationally, in his specialty — typography, digital edition and semiotics — at the Universidad de Chile, Universidad Diego Portales (Chile), Universidade do Porto in Portugal, and the Universidad Iberoamericana in Mexico. He also teaches in Lapland University in Rovaniemi, Finland.
In 2007 he wrote "Twenty-two tips on typography (that some designers will never reveal) and twenty-two things you should never do with typefaces (that some typographers will never tell you)" published in Spanish and English by Actar, and in 2012, "Thinking with images", published by Gustavo Gili in Spanish ("Pensar con imágenes") and Portuguese ("Pensar com imagens").
[Enric Jardí, August 2013]
Web: http://www.enricjardi.com/home.php
Fonts designed by Enric Jardí