Thomas Gabriel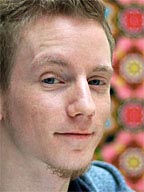 Thomas Gabriel was born and lives in Vienna, Austria. He studied graphic- and communication design at die Graphische in Vienna. After that he completed the one year Meisterklasse with a diploma in 2004. That was followed by one year's civil service for the Red Cross.
In 2006 he went abroad to study typeface design at the Royal Academy of Art, The Hague (NL). He graduated in 2007 at the type]media Master Course. Since then he has worked in different graphic design fields, always pushing quality typeface design.
In 2008 he founded Typejockeys together with Anna Fahrmaier and Michael Hochleitner.
[Thomas Gabriel, October 2009]
Fonts designed by Thomas Gabriel