Alan Meeks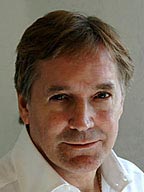 Alan Meeks was born in London, England in 1951, He went straight from school in 1970 to join Graphic Systems as a trainee artist, typographer and typeface designer. In 1975 he joined Letraset as senior designer and was chiefly responsible along with Colin Brignall in making Letraset into a serious font foundry. All the fonts in those days were hand cut in Rubylith and most of the original artwork has been archived by St. Brides Printing Library.
In 1984 Alan left Letraset to set up his own studio whilst still producing Typefaces for Letraset and ITC. With his own studio Alan started to do more work in Corporate Identity and Packaging, designing logos for Tesco, BHS, Rolls-Royce, Champions League etc. also Corporate Typefaces for Somerfield, Cathay Pacific, Tarmac etc.
In 2004 he set up his own foundry Alan Meeks to produce a range of mainly new modern text/sub-text designs. Alan now lives in Buckinghamshire with his wife and three children two cats and an unknown number of fish and frogs.
[Alan Meeks, April 2005]
Web: http://www.alanmeeks.com/