Joachim Müller-Lancé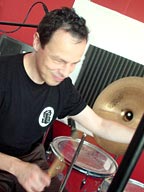 Joachim Müller-Lancé, born 1961 in Germany, studied at the Basel School of Design in Switzerland and at Cooper Union in New York. His practice in information design includes Access Press/The Understanding Business New York/San Francisco, his own studio in Barcelona, and Barclays Global Investors in San Francisco. He also researches, publishes and teaches in this field, and in type design.
He is a four-times recipient of the Morisawa Awards, including the Gold Prize of 1993 for his "Lancé" typeface family and two awards for Kanji design. Four of his typefaces, including two Kanji sets, were chosen into the world's best 100 of the bukva:raz! contest by AtypI/UNO.
Since 1997 he is Principal of his studio Kame Design in San Francisco, for cultural and information design, illustration and type. He also is a collaborator of the Typebox foundry, which he co-founded with Mike Kohnke.
[Joachim Müller-Lancé, March 2006]
Web: http://www.kamedesign.com/
Fonts designed by Joachim Müller-Lancé