Vladimir Yefimov (1949-2012)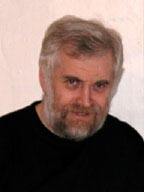 Information about the typeface designer Vladimir Yefimov and his fonts.
Vladimir Yefimov was one of the most respected Russian type designers. He was born in Moscow, Russia, in 1949, studied at Moscow Art School, and graduated from the Moscow Printing Institute in 1973 as a graphic designer. He worked at the Type Department of NPO Polygraphmash (1973-91) and at ParaGraph Intl., Moscow (1992-98) designing Cyrillic typefaces. He was then the art director and a co-founder of ParaType, Inc., Moscow.
He was the author of many articles and the editor of several books on typography and type design. He lectured on type design at the Higher Academical School of Graphic Design, Moscow and at the British Higher School of Art and Design, Moscow. He was a participant in several exhibitions of type and book design in Moscow and a member of the jury of some type contests including bukva:raz!, the type design competition of the ATypI (2001). He was a recipient of the Grand Prize at the Golden Bee 3, a biennale of graphic design, in the Typeface category (Moscow, 1996), and of the Typographic Excellence Certificate at the TDC2 (New York, 2000). He was a member of the Moscow Artists Union, a member of the Academy of Graphic Design, Moscow, and a member of the Association Typographique Internationale (ATypI).
He died in hospital in February 2012 at the age of 62.
Among his most well known typeface designs are AdverGothic, Didona, Lazurski, Newton, Octava, Petersburg, , ITC Avant Garde Gothic Cyrillic, ITC Benguiat Cyrillic, ITC Charter Cyrillic, Futura Cyrillic, Kis Cyrillic, Mason Cyrillic, and ITC Zapf Chancery Cyrillic.
[DJD, July 2012]
Fonts designed by Vladimir Yefimov: