Alice Savoie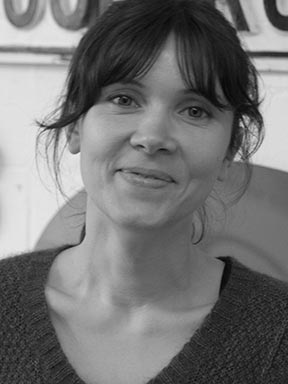 Alice Savoie (b. 1984) is a French typeface designer, writer, and educator. She studied graphic design and typography in Paris at École Duperré and École Estienne, and in 2006 graduated with a distinction from the MA in typeface design from the University of Reading (UK).
She collaborates with international type foundries such as Monotype, Process Type Foundry, and Tiro Typeworks, and has specialised in the design and development of typefaces for editorial and identity purposes. She also designs multi-script type families, including Latin, Greek, Cyrillic, and Hebrew.
Between 2008 and 2010 Alice joined Monotype as an in-house type designer, working mainly on custom type designs for international clients (The Times, Turner Broadcasting, Ogilvy, etc.). She has also contributed to the design of new typefaces for the Monotype library, such as the Ysobel type family (in collaboration with Robin Nicholas), and Rotis II Sans. Her type family Capucine is distributed by Process Type Foundry. In 2012 she collaborated with John Hudson/Tiro Typeworks over the development of the Brill typeface family for the Dutch publisher Brill.
In 2014 she was awarded a PhD from the University of Reading for the research she carried out in collaboration with the Musée de l'imprimerie in Lyon (France). Her research focuses on the design of typeface in France, the UK, and the USA, in the postwar period, and for phototypesetting technologies in particular. Since September 2013 she has been teaching typeface design at the Atelier National de Recherche Typographique in Nancy, and at the Ésad Amiens (France). She works as an independent type designer. 
[Alice Savoie, December 2014]
Twitter: @alicesavoie
Fonts designed by Alice Savoie