Rui Abreu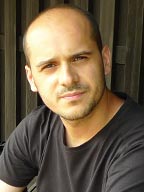 Information about the typeface designer Rui Abreu and his fonts.
Rui Abreu is a Portuguese type designer living in Lisbon. He studied Graphic Design at the University of Porto - School of Fine Arts, where he graduated in 2003. Rui Started experimenting with typography during his student years and in 2006 released his first attempts with fonts.
In 2008 he launched r-typography.com, a showcase with a selection of his work. Since 2009, Rui Abreu has been publishing fonts with the Swedish type foundry Fountain, including the award winner Orbe.
[Rui Abreu, November 2010]
Web: http://www.r-typography.com/
Fonts designed by Rui Abreu: