Fredrik Andersson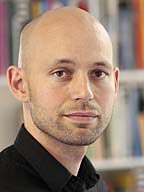 Fredrik Andersson was born in 1972 in Sweden.
After two years of art school and five years at HDK (School of Design and Crafts, Göteborg University, Sweden) he graduated with an MA in graphic design in 2000. Since then he's been working on a variety of design projects, from artists' books to large corporate design identities.
Fredrik is currently employed as a Senior designer at Pangea design, Stockholm. In his spare time he barely manages to keep his typography blog typografism.se up to date and one day he intends to finish the typefaces he's been toiling with since anno dazumal. 2010 could be the year this all happens. But he won't swear on it.
Photo: Peter Rosén/Pixmix.
[Fredrik Andersson, January 2010]
Web: http://www.pangeadesign.se/
Fonts designed by Fredrik Andersson