Luke Turvey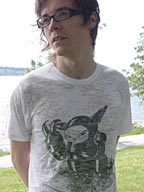 Information about the typeface designer Luke Turvey and his fonts.
Luke William Turvey was born in Canada in 1978, and has always had a deep interest in art and design. After a decade of exploring typography as a practicing street artist, he took off to live in Japan for a time, doing art shows in Tokyo and Kyoto and founded Okaycat, a type foundry.
Luke has since returned to his homeland and settled down in Vancouver, B.C. where he started the fashion label Citycrusher and now lives with his wife and a cat. Luke's most well known typefaces are Shababa and Arco Crayon.
[Luke Turvey, February 2011]
Web: http://www.coroflot.com/luketurvey
Fonts designed by Luke Turvey: