Joachim Lapiak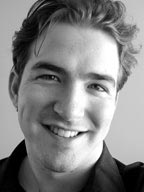 Information about the typeface designer Joachim Lapiak and his fonts.
Joachim was born in 1984 in Edmonton, Alberta, and graduated in 2007 at the University of Alberta's Bachelor of Design Program with distinction. He also established his design studio that year, Lapiak Design, which is operating as an independent type foundry and lettering studio.
His first typeface was Handtext, a finger-spelling typeface based on the American Manual Alphabet, released in both bold and regular fonts. He is currently working on his first sans serif release, Whisk, which is designed for food and beverage-related products. Joachim is a big admirer of Dutch type, and regards Adrian Frutiger as his favorite type designer.
[Joachim Lapiak, July 2010]
Web: http://www.lapiakdesign.com/
Fonts designed by Joachim Lapiak: