César Puertas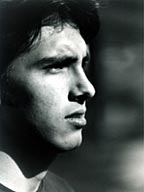 Information about the typeface designer César Puertas and his fonts.
César Puertas was born in Bogotá (Colombia) in 1977 and studied Graphic Design at Universidad Nacional de Colombia from 1994 to 1999. He has performed as book and web designer and more recently as typeface designer with his projects Obliqua (2006), Urbana (2007) and Bolívar (2008).
Typographic design teacher at Universidad Jorge Tadeo Lozano from 2005 to 2007. ADG Colombia co-founder and active member as well as ATypI associate member. Letras Latinas 2006 biennial organiser, juror and curator in Colombia. Speaker & lecturer on typography and country delegate for Tipos Latinos 2008.
[César Puertas, October 2007]
Web: http://www.cesarpuertas.com/
Fonts designed by César Puertas: