Carlos Fabián Camargo Guerrero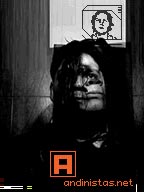 Studied Graphic Design between 1995 and 1998 in the Instituto Universitario de Tecnología Antonio José de Sucre (IUTAJS) - Extensión Mérida, Venezuela.
In 1998 he founded Andinistas with Lennyn José Salinas Albarrán, and Jorge Alexander Camargo Guerrero. It is a small typographic digital foundry based in Caracas D.F., Venezuela.
Between 1997 and 2005 he worked as a Graphic Designer and as an Art Director in different publicity agencies like: McCann Ericsson Venezuela, Leo Burnett Venezuela, Ogilvy One Colombia and SSA Bates Colombia.
In 2003, Andinistas was established in Bogotá, D.C., Colombia as a Graphic Design studio specialising in the design and development of retail fonts and fonts by order.
[Carlos Fabián Camargo Guerrero, May 2007]
Web: http://www.andinistas.net/