Ralph M. Unger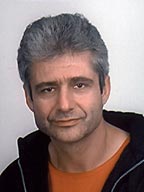 Ralph M. Unger was born in Rudolstadt, formerly in East Germany, in 1953.
After his years in school, he completed an apprenticeship as a compositor in a small Thuringian printing shop in which he still came in touch with lead letters, composing sticks, and galleys. A true, baptized disciple of Gutenberg, he worked many years as an advertising setter on Linotype machines, photosetting stations, and finally with the Mac in various print shops.
In 1995, he established his own studio in Aalen, in the state of Baden-Wuerttemberg. What started as a hobby, the digitization of fonts, has become his major field of occupation. Besides being a free partner of URW Type Foundry and Profonts, in Hamburg, he opened his own label RMU Typedesign in 2009.
He now lives and works in Schwäbisch Gmünd, Germany.
[Ralph M. Unger, July 2010]
Web: http://dtp-studio-unger.de/
Most popular fonts designed by Ralph M. Unger