David "Squid" Cohen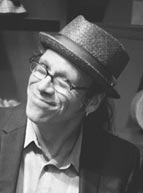 David Cohen, born 1960, is a native of Kansas City, Missouri. He is a sculptor, cartoonist, type designer and musician. Having a longtime fascination with vintage hand-lettering, he entered the type design fray after being introduced to Stuart Sandler with whom he partners under the Sideshow name.
Known in the lowbrow art scene as "Squid", Dave has designed and sculpted all manner of master models for the ceramics and toy industries with clients such as Tiki Farm, Disney, THQ Video Games,. Fender Guitars, Gary Baseman and Shag.
After surviving an 11 year stint in Los Angeles, he now lives in Seattle, Washington where he is active in the jazz and experimental music scene and continues to wonder what he wants to be when he grows up.
[David "Squid" Cohen, January 2012]
Web: http://squidart.com/
Twitter: @squidartdotcom
Fonts designed by David "Squid" Cohen