Jeroen van der Ham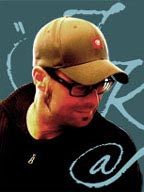 Jeroen "Joebob" van der Ham was born in Arnhem, the Netherlands, in 1971 and studied graphic design at the school of fine arts in 's-Hertogenbosch.
After working as a graphic- and interaction designer for different companies for a couple of years he started his own business -JOEBOB graphics- in 2005, creating fonts, illustrations and paintings. He now lives in 's-Hertogenbosch with his wife Simone and son Bruno and his wife is expecting their second kid.
JOEBOB is best known for his Dear Joe family of handwritten fonts.
[Jeroen van der Ham, March 2006]