Michael Browers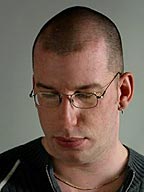 Michael Browers was born in La Crosse, Wisconsin in 1977 and studied Graphic Design at the University of Minnesota-Duluth, earning a Bachelor's of Fine Arts degree in 2000.
Upon graduation, Michael worked at a small design firm in Winona, Minnesota. During his time in Winona studying and teaching himself type design was the dominating activity in his spare time.
In 2005 Michael started self publishing his own typefaces such as Isoglyphics, Mehriban, and Sophiazoya. Michael's work has been exhibited in Boston and Berlin, as well as included in the upcoming book, 'Branded', by Debut Publications in the UK.
Currently, Michael resides in Duluth, Minnesota with his wife and daughter.
[Michael Browers, February 2007]
Web: http://www.michaelbrowers.com/
Fonts designed by Michael Browers