Felix Arnold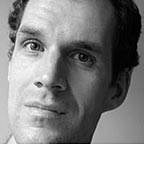 Felix Arnold, born 1970 is a trained typographer. After his apprenticeship he studied at the Basel School of Design. He now lives with his family between the green hills of the Swiss Emmental and works in a small design bureau in Berne.
The Cisalpin is his first typeface, which is designed with quite specific characteristics for the special field of cartographic uses. Although Cisalpin was developed for use in cartography, it may be used for countless other purposes; any font that can work well in small sizes on a map could be used almost anywhere else.
Beside his work in the design studio, Arnold recently worked on custom fonts only.
[Felix Arnold, September 2007]
Fonts designed by Felix Arnold