Veronika Burian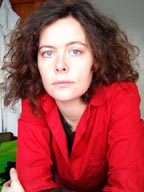 Veronika Burian was born in Prague in 1973. Her family fled seven years later to Munich, Germany, where she graduated in Industrial Design at the University of Applied Sciences. Before completing her studies she went to Vienna, Austria, to work as product designer at Gregerpauschitz.
In 2000 she joined the team of the Japanese designer Makio Hasuike in Milan, Italy. Here Veronika's interests shifted increasingly from product to graphic design and typography where she felt more at home. The decision to focus more exclusively on type design developed naturally, amongst others through her collaboration with Leftloft for the exhibition Italic 1.0 at AtypI and her involvement in teaching at the Politecnico of Milan.
In 2003 she completed her MA in Typeface Design with distinction at the University of Reading where she started the typeface Maiola. It received the TDC Certificate of Excellence in Type Design in 2004 and was selected, together with one of her custom design typefaces Dream, in the Type Design competition from Creative Review in 2005. Maiola is also part of the touring exhibition e-a-t and the SOTA Typegallery at Typecon, and she has produced Greek and Cyrillic versions. Karmina, the first collaborative work from TypeTogether, also won a merit at the ED-Awards competition 2007.
After graduating in 2003 she started to work as full-time type designer at Dalton Maag Ltd in South London. In 2006 she moved temporarily to Boulder, Colorado, and is now dedicating her time fully to TypeTogether, a type collective that she co-founded with José Scaglione from Argentina. It serves as platform to develop and publish her own as well as collaborative typefaces. She also continues to lecture about typography at international conferences, universities and to write for trade journals.
[Veronika Burian, February 2008]