Roy Cole (1932-2012)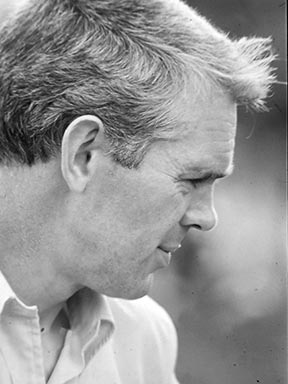 Roy Cole was born in 1932 in Bradford, England, and began working as a compositor from the age of 14. While typography in England was in slow development during the post-war reconstruction period, Roy felt that a fresh impetus was emerging from the continent. In his quest for typographic innovation, he moved to Switzerland and became the only British compositor to study under Emil Ruder at the Gewerbeschule in Basel.
It was here that typographic history was being made through the creation of a style that epitomised modernity. In the mid-1950s typographic development in Britain had largely restricted itself to slab serif typeface revivals from the nineteenth-century, along with Mistral script, whereas typographic development in Switzerland concerned itself with Akzidenz-Grotesk, a sans serif typeface from Berthold, which was complementary with asymmetric composition. This early experience made a profound impact on Roy in that the principles of order, simplicity and legibility, fused with experimentation, became a hallmark of his practise.
Whilst in Basel Roy met Maria Zenz from Austria, whom he married in 1961. On completion of his studies he continued to pursue his typographic practice in the UK and Switzerland during the 1960s – 70s. He held positions with Birkhäuser AG, Basel; Nicholson & Bass Ltd, Belfast; Zollikofer & Co. AG, St Gallen; Stevenson/Ward F/FSIA, Macclesfield; Warrington Development Corporation; and Metal Box Ltd, Reading.
In 1981 Roy set up his own studio, Cole Design Unit, and designed hundreds of books and book covers for some of the UK's most significant arts and education publishers, including Van Nostrand Reinhold; MacMillan Publishers; Phaidon; Pergamon Press; Oxford University Press; Philip Wilson Publishers; Barrie & Jenkins; Studio Editions; Pavilion Books; and Royal Academy Publications. In 1986, as Cole Design Unit, he became principal book designer for the Ashmolean Museum, Oxford.
At the end of the 1990s Roy formed his own type foundry, Roy Cole Typography, in Wells, Somerset. Here he developed type families in the sans serif style – Lina (2003); Zeta (2006); Colophon (2009); and Coleface (2012). Roy died in Wells in 2012, six months after the death of his wife Maria.
[Ina Cole, August 2014]
Fonts designed by Roy Cole