Jim Ford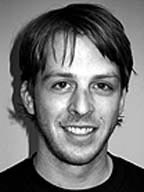 Jim Ford is a type designer and graphic designer, and joined Ascender's type design and development team in June 2005. A native to the Chicagoland area, Jim studied advertising art direction at Columbia College in Chicago before changing course to pursue a career in type design. He received his BFA in Graphic Design in 2005, shortly after joining Ascender's type design and development team. Although good penmanship and drawing skills have been under his belt since childhood, Jim developed an interest in typography while attending Columbia. Professor and type designer George E. Thompson proved to be an invaluable mentor while Jim was growing as an aspiring type designer.
Before Ascender, Jim worked at a local advertising agency and was a freelance graphic designer, and was involved in a variety of projects from brand identity systems to publications, illustrations to rock posters. In fact, his lettering and typographic experiments for band fliers may have sparked his interest in type design.
At Ascender, Jim has worked on custom typefaces for a range of corporate branding clients, fonts for software and hardware developers, and retail fonts as well. Some of his type designs include: Artcraft, Ayita, Trilby, Hair of the Dog, Resonance, and a handful of other fonts which are in progress.
Jim lives in Delavan, Wisconsin with his girlfriend Katie, son Riley, two cats, and a dog. When he's not designing typefaces or having fun playing dad, Jim is working hard on his other passion, music. Jim plays bass and other instruments, and is bandleader/producer for the Chicago-based collective improv group, Duchamp. Recently he has started yet another musical project, a rock trio called Amateur Night, which he writes and plays drums for.
[Jim Ford, September 2008]