David Hubner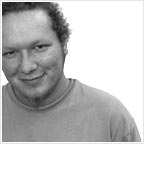 David 'Dav' Hubner, born in Wels, Austria, in 1981, is an self-taught designer, self-proclaimed 'typoholic' and founder of the independent corporate design bureau, and type foundry Formlos.
He previously 'gave away' several free fonts, in the past, before releasing his first almost commercial typeface 'PlayR FRML', a modern, playful, yet minimal, experimental 'techno' face, in 2002. Since 1997 Mr. Hubner is constantly working on new type designs, beside his day to day 'job'. He shares a passion and love for design, lettering and vintage letterforms and draws his inspiration from quite a few things, including travelling, seeing the world, train stations, airports, longboarding, and silent minutes by the sea. His design work has been featured in several publications in Germany, the UK and Spain.
One other thing he currently is involved with is connecting talents to form a new, collaborative European type design conglomerate. formlos / David Hubner still resides in the north of Austria, and the heart of Europe.
[David Hubner, March 2006]
Fonts designed by David Hubner