David Lawless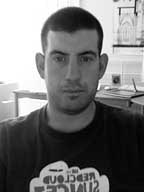 David Lawless was born in Liverpool, UK, in 1974 and studied Graphic Design in 1992 at Kingston University. He started work at MET2, a small design studio in Manchester, in 1994, as well as teaching Foundation and HND Graphic Design part time at St Helens College of Art & Design.
He now works full time at Studio LIddell, a design, illustration and animation studio based in Manchester.
Among his most popular typeface designs are Suredog and Loop.
[David Lawless, March 2006]
Web: http://www.studioliddell.com/
Fonts designed by David Lawless