Rustam Gabbasov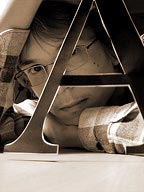 Rustam Gabbasov was born in 1985 in the small city Salavat, in Russia. After studies in high school he became a student of Ufa State Aviation Technical University where he now studies CAD systems.
Two years ago he left to set up with his brother their own graphic design studio Crealit.com. His interests are in qualitatively new Cyrillic fonts, which can be used in advertising, polygraphy, and any forms of the construction of text.
He releases the fonts under the LetterBe name, and his website is dedicated to typography: articles, documents, and Cyrillic fonts.
[Rustam Gabbasov, May 2005]
Web: http://fonts.crealit.com/