Jim Rimmer (1934-2010)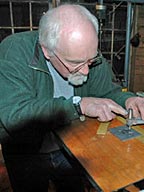 Considered a national treasure by many Canadians, Jim Rimmer designed and cut typefaces for over 60 years - he discovered typography at the age of 10.
During the 1950s he was apprenticed to a commercial printer. He spent time in hot metal type compositing rooms, and operated both Linotype and Monotype machines. In fact, he had a large collection of presses including a Monotype caster which he used regularly up until his death. He also helped others get to grips with them, in the 1970s aiding Gerald Giampa of Cobblestone Press to learn the basics of Monotype casting. His work involved digital technology as well as cutting metal type.
With more than 40 years of experience of graphic design, he worked in various ad agencies and design studios, as well as freelancing as a letter designer and illustrator. When Lanston was in Vancouver, he was its Type Director. While with the company, he made digital versions of Cloister, Deepdene, and Garamont.
He started his own private press, Pie Tree, based in Vancouver. He designed using his own typefaces, and illustrated and printed books; including a retrospective book of his work, "Leaves from the Pie Tree", which he wrote, illustrated, printed, and published in 2006, and an illustrated edition of Tom Sawyer's adventures which was published in 2009.
The Rimmer Type Foundry has published digital versions of his metal type and hand lettering.
[LC, DJD, February 2010]
Fonts designed by Jim Rimmer