Ben Jones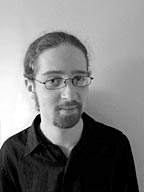 Information about the typeface designer Ben Jones and his fonts.
Ben Jones was born in the UK in 1980. After moving to Switzerland in 1991 and spending his formative years there, he returned to England to study Typography at the University of Reading in 2000.
After completing the four year course, Ben established Protimient, a design enterprise encompassing web design, print design and, primarily, type design.
[Ben Jones, July 2005]
Fonts designed by Ben Jones: