Sébastien Théraulaz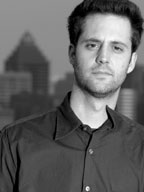 Information about the typeface designer Sébastien Théraulaz and his fonts.
Sébastien Theraulaz started in graphic design in his native Switzerland, and then switched to industrial design at the Art Center College of Design in Pasadena, California. In 1997, he moved to Montreal, where he worked mainly as a motion graphics specialist for the TV and film industry.
Aside from working on commercial projects, he dedicates a lot of time to the development of new fonts.
[Sébastien Théraulaz]
Fonts designed by Sébastien Théraulaz: