Valérie Desrochers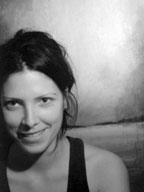 Information about the typeface designer Valérie Desrochers and her fonts.
Valérie Desrochers studied graphic design at the Collège de Sherbrooke. She graduated with an award of excellence for overall achievement in 2002, and afterwards moved to Montreal.
Since then she has developed a keen interest in experimental typography and illustration.
[Valérie Desrochers]
Fonts designed by Valérie Desrochers: