Stephen Boss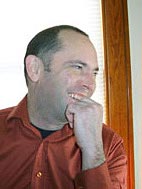 Stephen Boss was born on April 8th 1969.
Stephen was always interested in letterforms, in his youth he used brushes and calligraphy pens; later in his life he switched to a mouse and benzier points. Presently he uses a mixture of media to design.
Stephen's Type instructor was Richard Isbell, a Type Designer from Detroit Michigan, back in the day when headlines were still hand rendered.
Stephen started Emboss Fonts in 1995 with an interest in developing typefaces with a unique vernacular. He has since consulted on type projects for Fairchild, JP Morgan Chase, Bumble & bumble and Osh Kosh.
His work was exhibited in Seybold's New Type Gallery, a traveling show which originated in the Javitz Center, NYC; moved on to ATypI in Reading UK, the Royal Academy of Art in the Hague and lastly Harvard in Cambridge Massachusetts where it is stored. His work was featured in Japan's Timing Zero, Publish Magazine, and Mass HiTech.
He lives in the Fingerlakes region of Upstate New York, and always has a few new designs in queue.
[Stephen Boss, February 2011]
Web: http://www.stephenboss.com/
Fonts designed by Stephen Boss