Stuart Brown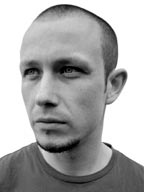 Information about the typeface designer Stuart Brown and his fonts.
Stuart Brown is a UK-based designer and typographer who has been creating digital typefaces since his art college days in the mid-nineties.
He is currently working as a freelance graphic designer in the north of England and is also developing a library of new fonts to be released commercially in the near future through the HamburgerFonts label.
[Stuart Brown, September 2004]
Fonts designed by Stuart Brown: