René Verkaart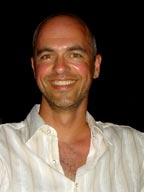 René Verkaart is a graphic designer and typographer who has been making his own typefaces since 1995, while still a graduate graphic design student at the Kunstacademie Maastricht.
His portfolio currently contains over 45 typefaces, and all his typefaces are extensively tested by carefully selected Beta testers, who are renowned graphic design studios that test the typefaces in practice and give critical feedback to improve the final release versions.
His typefaces have been featured in major design magazines like Items (Holland) and Diseño (Barcelona).
René Verkaart is also co-founder of Stoere Binken Design, a renowned Dutch graphic design studio based in Maastricht, The Netherlands.
"The handwriting representing a writer's state of mind, passion and personality has been replaced by state-of-the-art typefaces that reveal more about the quality of the laser printer than the writer."
[René Verkaart, March 2005]
Web: http://www.stoerebinken.nl/
Fonts designed by René Verkaart