Stefan Gandl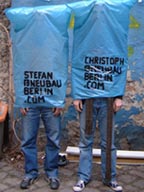 In 1969 Stefan Gandl was born and raised in Austria. Although he tried really hard his teachers at elementary school weren't very happy with his calligraphical output and Gandl received bad marks on a regular basis.
During the seventies due to his insufficient pocket money and without being able to purchase original records, Gandl had to design the covers of his own mix tapes by himself. The results weren't that bad which encouraged him to go on with his new found toys - the dry transfer sheets of Letraset typography. Since the eighties, against the advice from his teachers but thanks to the invention of the personal computer, Gandl now develops programmed typography.
In 1996 Gandl switched base and moved from Vienna to Berlin. In 1999 Stefan teamed up with the programming artist Rob Meek. Their first book "DSOS1", a collection of 80 experimental typefaces and the world's first type-synthesizer, was published by Berlin based Die Gestalten Verlag in 2001.
By the end of 2001 Stefan founded his own studio named Neubau specialising in design for screen, print, video and typography.
In 2005 the studio's first book "Neubau Welt", a collection of 1247 editable silhouettes, was released by DGV and became a bestseller, followed by "Neubau Modul", a collection of 2031 electronic and analogue patterns, released by DGV in 2007. In 2008 the legendary type designer Wim Crouwel opened "Neubauism", Neubau's first solo exhibition at prestigious MU in Eindhoven, The Netherlands.
Since 2006 Neubau has been the work of Stefan Gandl and Christoph Gruenberger.
[Stefan Gandl, July 2008]
Web: http://www.neubauladen.com/
Fonts designed by Stefan Gandl