Michael Doret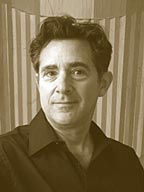 A graduate of the Cooper Union, Michael opened his own design studio, first in New York City and later in Hollywood. A specialist in logos and letterforms, Michael's unique typographic vision blends elements of lettering, illustration and graphic design. The inspiration for his work has come from such diverse sources as matchbook covers, theater marquees, enamel signs, early and mid-20th century packaging, and various other American artifacts.
In 2006 he turned his energies towards font design, opening Alphabet Soup Type Founders with the release of two fonts - Orion MD and Metroscript and one font family - Powerstation. Simultaneous with the release of his fonts he published limited edition serigraph posters celebrating the new designs. In March of 2008 Alphabet Soup released Michael's 21st century update of the 20th century classic Bank Gothic. His DeLuxe Gothic distinguishes itself by being the first version of this font (originally designed in 1930 by Morris Fuller Benton) to have a complete set of lowercase characters. Heretofore Bank Gothic had only been available in caps and shortcaps versions.
Michael is an eight time recipient of the NY Art Director's Club Silver Award. He has exhibited work in all the major industry shows and annuals: Society of Illustrators, American Institute of Graphic Arts (AIGA), Type Directors Club (TDC), Communication Arts (CA) Annual and the CA Art Annual, Graphis, The Print Casebooks and the Print's Regional Design Annuals, Creativity, the ANDYs, the DESIs, and American Corporate Identity. His "Bedlam Ballroom" CD packaging project for the "Squirrel Nut Zippers" was nominated for a Grammy for Best Recording Package at the 44th Annual GRAMMY Awards. His serigraph for PowerStation was a Graphis Gold Award winner, and his poster for PowerStation was a winner in Print's Regional design Annual
Features on his work have appeared in national and international publications such as HOW, Step-by-Step Graphics, Art Direction, U&LC, IDEA (Japan) and Grafica (Brazil). In addition, features on his work have appeared in various books such as "Then Is Now", "A History of Graphic Design" and "Adobe Master Class: Illustrator Illuminated". He has lectured extensively in Universities and graphics organizations in many cities across the United States
His clients have included the National Basketball Association, Major League Baseball, Walt Disney Imagineering, Warner Bros., Universal Studios, Nike, Adidas, Time Magazine, TV Guide, United States Postal Service, Graphic Artists Guild, Conde Nast, Dow Jones, Playboy, Capitol Records, Columbia Records, Taschen Publishing and all the major US advertising agencies.
[Michael Doret, April 2008]
Fonts designed by Michael Doret