Von R. Glitschka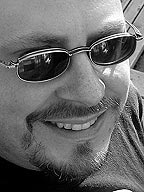 Von R. Glitschka grew up in the US pacific northwest territory, and studied Graphic Design at the Art Institute of Seattle in 1986.
He refers to his niche as an 'Illustrative Designer' working as a hired gun for numerous agencies and firms nationwide and overseas. Von started his own design firm 'Glitschka Studios' in 2002.
Von has designed over ten fonts commercially, and is currently working on a new font called 'Nincompoop'.
[Von R. Glitschka, March 2006]
Web: http://www.vonglitschka.com/
Fonts designed by Von R. Glitschka