Silas Dilworth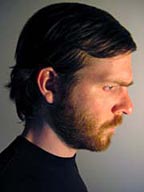 Silas Dilworth received his BFA from the School of the Art Institute of Chicago with a focus in Painting and Drawing, concurrently maintaining independent study as Communications Director for the Student Union Galleries. It was his technical experience with the Galleries and part-time work as a signmaker that sparked his interest in type design.
Upon graduation in 2001, Dilworth took a position at [T-26] as font technician and type designer. He assisted in the development and publication of hundreds of [T-26] releases and created custom type for various clients until early 2005.
In February 2005, he established Dilworth Typographics and began laying the foundation for TheTypeTrust, a distribution partnership with Neil Summerour. April 2006 saw the beta launch of TheTypeTrust web site and the first retail release of Dilworth's type designs. The full public launch of TheTypeTrust was announced in October 2006.
In September 2006, Dilworth accepted a salaried position with VSA Partners in Chicago to serve as type designer and branding consultant.
[Silas Dilworth, October 2006]
Web: http://silasdilworth.com/
Fonts designed by Silas Dilworth