Ingo Zimmermann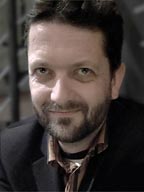 Ingo Zimmermann was born in 1967 in Schwabmünchen near Augsburg, Bavaria, Germany. After completing studies in political science and history, he added a study of communication design. Since then he has been focusing on typography and font design.
Ingo Zimmermann works for publishing companies in the field of editorial design as well as for design studios and advertising agencies in the range of corporate design.
His very first fonts were stencils he cut out of paperboard and used in graffiti. During his studies he began to publish his fonts under the label IngoFonts, and of all font types he started with a black letter: "Faber Fraktur". By now his designs include fonts of all styles, from classical to modern, script fonts, revivals of historic typefaces, Romans, sans serifs, decorative fonts, etc.
One of his latest creations, the modern sans serif Absolut, seems to be growing quite popular since it was first published in late 2008. The same is true for Biró Script from 2006, Ingo's personal handwriting. It includes over 100 ligatures, so text set in Biró Script appears remarkably similar to a text handwritten with a ball point pen.
[Ingo Zimmermann, October 2010]
Web: http://www.ingo-zimmermann.de/