Robert Altemus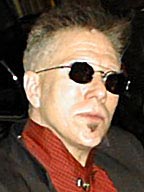 Robert Altemus, a New York based artist, has more than twenty years of experience in art direction, publication design, typography and illustration. The recipient of well over a hundred and fifty national design, illustration and typographic awards, Altemus currently devotes his energies to interface design, animation, and consulting at KrelStudios.com.
He has art directed such magazines as Family Weekly, The New York Daily News, Nostalgia, Penthouse, Splice, US, and The Washingtonian. Altemus has also designed magazines for various entertainment projects including Blade Runner, Gremlins, Back To The Future, Mad Max, all three Batman films, and The X-Files TV show.
Altemus has been actively involved in computer systems consulting for clients including Newsweek and Rolling Stone. He has been actively involved in teaching, and has conducted workshops on magazine redesign, start-ups and desktop publishing. As a former president of the Society of Publication Designers, he organized and co-chaired Zine 2000 (a one-day conference on editorial design for the Internet) with Roger Black.
[Robert Altemus, March 2005]
Fonts designed by Robert Altemus