Wayne Thompson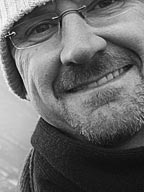 Wayne Thompson has been a graphic designer since 1989, working as an Art Director in various advertising agencies in New South Wales, Australia. But after 15 years in agency-land, he now works full-time as a type designer.
He became interested in type design in the early 90s while working as a signwriter: "When you have to physically trace each letter shape on to a window or a van you quickly learn to get it right". This, combined with a drawer full of rub-down lettering which came as a hand-me-down from a commercial artist uncle, began his involvement with type.
He spent several years evolving through the Macintosh revolution before tackling his first type design, Dallas, released by T-26, "which was based on the handwriting of my brother who had a unique squiggly g and q which appealed to me". Next came ITC Django, also based on the handwriting of an acquaintance who was a jazz guitarist (hence the name). "It's a very loose and jagged hand script, the kind of face which is very difficult to space, and which taught me a lot about maintaining the 'feel' of a handletter through the digitisation process".
Next came ITC Panic and ITC Don't Panic, two faces which were inspired by the half-inked stamps on air mail envelopes. Since then he has concentrated on the development of Australian Type Foundry, launched in January 2002, which contains (so far) a further 35 of his own original type designs. His latest is a new family of display faces called Fuse Box, based on metal packing-crate stencils found in a country second-hand store combined with psychotic ink-blots. Wayne is also currently developing Halvorsen, a sans serif family which is his first foray into extended text families.
[Wayne Thompson, March 2006]
Fonts designed by Wayne Thompson