Dean Stanton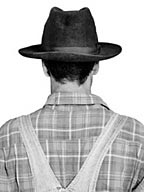 Born on a nice sunny Saturday in 1967, in good ol' Calgary, Dean Stanton began making art around the same time he learned how to talk, and he has not slowed down since then, in either department. His whimsical style can be seen in and around Calgary in a variety of media, from murals and large painted signage to logos, typefaces and advertisements.
He graduated from the Alberta College of Art and Design in 1990 with a diploma in visual communications, and began a career as an illustrator. Working in a variety of 2-dimensional and 3-dimensional media, he has also been known to work on funky furniture and digital projects.
Satisfied clients and collectors are found across Canada, and in California, England, Germany, and Australia. Dean is always working on something interesting, and has plans to eventually take over the world.
[Dean Stanton, July 2003]
Web: http://www.ilovestanton.com/
Fonts designed by Dean Stanton