Ty Semaka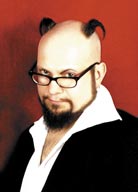 Ty Semaka worked for the now defunct Image Club Graphics for two years just after graduating from the Alberta College of Art (Calgary, Alberta, Canada) in 1988. During this time he was paid $11 per hour to create thousands of clip art images (which were eventually sold off to Corel Draw and Adobe). For Image Club he also created Lemonade for which he estimates they paid him $1100. He based the typeface on children's writing and Lemonade fast became one of Image Club's biggest sellers. Ty tried to negotiate for royalities for the typeface but was turned down because "You are an employee here and Image Club pays wages not royalties".
Ty was repaid for his years of award winning clip art and top selling typefaces with a threatened lawsuit from Image Club when it was bought by Adobe in 1995, for scanning images from very old Popular Mechanics magazines under the instruction of his employers, Image Club. The lawsuit was dropped.
Ty is a well known Calgary graphic designer, illustrator, musician, and playwright. He continues to see his typface "Lemonade" all over the world as he tours with his band "The Plaid Tongued Devils" (www.thedevils.com).
[Ty Semaka, July 2003]
Fonts designed by Ty Semaka