Jason Walcott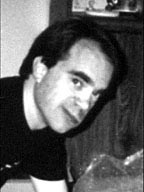 Jason Walcott, creator of Jukebox, was born in Trenton, Michigan in 1971, but grew up in Randolph, New Jersey. From 1989 to 1991 he attended The University of Maryland College Park where he studied architecture and three dimensional design.
After taking a two year leave of absence, he transferred to Kean College of New Jersey, where he graduated cum laude in 1997 with a BFA in Illustration and Graphic Design. While at Kean College, he developed a love of type and typography, which eventually led to the development of his first typeface,Holiday Times in 2000. As his library of original typefaces grew, he began to offer them commercially in mid 2001. In June of 2003, Jason relaunched his original font foundry as Jukebox after partnering with Veer Inc. Veer is now the sole distributor of Jukebox fonts in North America.
To date his most popular fonts have been Valentina Joy, Fenway Park, and Stephanie Marie. He continues to develop typefaces as well as doing freelance graphic design work, and currently resides in Anaheim, CA, USA.
[Jason Walcott, March 2006]
Web: http://www.walcottdesign.com/